Least-known fact: I have four mothers and five fathers
First are my biological mother and father. I finally met Connie in 2017–I share the story, and my thanks to her for caring enough to carry me to term and give me up for adoption here. I haven't located my biological father yet.
Second are my foster parents, who cared for me during the first 11 months of my young life. I know nothing about them, but am so grateful for their love and care during those formative months.
Third are my adoptive mother and father—Doris and Stan Lair (I thank and honor my adoptive mother here.)
Fourth are my stepmother (who I only lived with a few years) and my stepfather (Al Wallace, whose name I took when I turned 18. He passed away in 2019. I wrote an article about saying goodbye here.)
Fifth is my Heavenly Father, who I met on April 21, 1980 (the spring of my high school Junior year).

Greatest joy: My gracious wife (Lori) and my fabulous children (Bethany, Brooke, Ryan, and Luke)



Greatest personal, emotional, and spiritual challenge: Our precious daughter Bethany passing away on April 11, 2013, at 23 years of age



Most influential people in my life:
Roger Hershey. "Hersh" first influenced me by establishing the high-school ministry through which I came to faith. He then transitioned to collegiate ministry as I was heading to college, and we ended up together at Miami University, where he mentored me for several years. From Hersh I learned much about how to be a husband and father, he challenged me to grow in my faith in ways I didn't imagine possible, and I learned life-long ministry skills. Later I served on his collegiate ministry staff team, where I learned from him how to lead well (which I wrote about here.)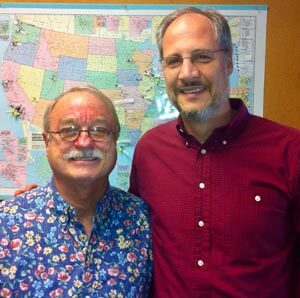 J.P. Moreland. I first met J.P. when I took his Philosophical Apologetics class in 1987. What I learned was extremely helpful in my ministry, and set me on a life-long journey to better understand Christian thought. (JP and I recall these early days in our Thinking Christianly podcast here). Since then I have taken both my Masters and Doctorate under him, and he has become a perennial mentor and dear friend. From him I have learned how to love God with mind and heart and strength, for I know no one who more deeply integrates a passionate intellect, deep, personal intimacy with God, and an activist mindset for the cause of Christ.
Danny McCain. Danny founded Global Scholars (then the International Institute for Christian Studies) in 1986, and continues to teach with us in Jos, Nigeria. When I joined Global Scholars in 2010 he took me under his wing and has been a constant source of encouragement, direction, and vision. Danny is the most visionary and entrepreneurial person I know! He has also sustained me in the ministry, being my encourager and strongest advocate during a season in which it seems I was facing insurmountable obstacles. Finally, Danny continues to help me understand what it means to see God's truth and grace extend to the ends of the earth.


Most nerve-racking experience: Traveling through Iraq with local drivers I didn't know.
I was to travel from Erbil (the capital city in Kurdistan, northern Iraq which I had flown in to), up to Duhok (on the northern border with Turkey), and then over to Sulaimani (on the eastern border with Iran). There was no plane, bus, or train service, so the only way to get to Duhok and Sulaimani transportation was to hire personal drivers. So my contact in Erbil found me a driver he trusted.
As we began our trip, I was pleasantly surprised by my driver's kindness and knowledge of the roads. (He chose not to take me through Mosul, which he knew was too dangerous for westerners. Instead we took back roads around the city, for which I was very thankful, though that leg of the journey was still nerve-racking.) I was also so glad he spoke some English, and we enjoyed good conversation.
Unfortunately, my contacts in Duhok were not able to find me an English-speaking driver for my trip to Sulaimani. Having no option, I hired the driver they suggested. When he arrived I threw my bag in the trunk, hopped in the passenger seat, and we took off. After driving for two hours through a deserted part of the country, he unexpectedly turned off the road and headed toward a small building far off in the distance. I had no idea what the building was, why he was taking me there, or what to expect when arrived. After traveling for another 15 minutes, we pulled up to a small Iraqi dinner and he treated me to a wonderful lunch!


Most interesting evangelistic conversation: Two-hour conversation with an American CEO who had converted to Tibetan Buddhism.
I share more of the story, including his questions about why I believe God is personal and my responses, here.



Most embarrassing moment: Tripping over cables before a live audience of 4000+ (and countless more watching remotely).
In 1998 I had the privilege of being involved in hosting a debate on the topic, "Is it Reasonable to Believe God Exists?" Between the world's leading Christian apologist (Dr. William Lane Craig) and the world's leading atheistic philosopher (Dr. Antony Flew—I have written a bit about how this debate led Dr. Flew to eventually reject atheism here.)
I was to say a few words between the debate and the Question-and-Answer period. As I began to walk to the podium, I was very aware of the large bundle of audio-visual cables in my path. That didn't stop me from tripping over them and taking five or six giant steps to keep from falling. There was a collective gasp from the audience, and then applause when I somehow recovered. My strong desire was to keep walking right out the door, but I had to continue on to the podium and offer my remarks!


Most unique cultural experience: Learning the difference between justice and mercy in an Ethiopian airport.
During one of my first visits to the wonderful continent of Africa, I was flying from Nigeria to Botswana. On the way to the airport in Nigeria Dr. Danny McCain, who had by that time lived in Africa for over twenty years, offered me some advice. He explained some cultures are justice-based, and some are mercy-based, and I better know the difference.
He explained that the U.S. is a justice-based culture, and so that's the way those of us from the U.S. naturally engage the world. When we find ourselves in trouble, and it is not of our doing, we appeal to those in authority for justice—to make things right, on the basis of our innocence and their ability to fix things. Yet other cultures, including many in Africa, are mercy-based cultures. These are cultures filled with gracious people who love to show others mercy, but are not as moved by arguments for justice. He exhorted me to remember, not if but when I found myself in a pickle that was not my fault, to simply beg for mercy, instead of arguing justice be served. I agreed, not knowing I would fail the test within less than 24 hours.
My flight connected through Sierra Leone and Ethiopia. In Sierra Leone we were delayed. So by the time I got into Ethiopia for my final connection to Botswana, the ticket counter had closed. I was relieved to see the flight had not yet left, and so I hurried to the airline office. There I found an agent doing paperwork. I explained that I had just arrived on the delayed flight from Sierra Leone, and asked if he could help me make my connecting flight. He calmly explained that he could not help, as I was too late and the counter had been closed. I told him again that my flight had been delayed, and so arriving late was not my fault. Furthermore, since the flight to Botswana had not yet left, I again asked him to help me get on the plane. He simply restated that he could not help me.
Then (after several more attempts to make my case for justice) I remembered Danny's words. As hard as it was for me, from my cultural background, I realized I had to beg for his mercy. So I did. "Sir, I am so sorry. I beg for your mercy. Please help me." Immediately his countenance changed, and he exclaimed, "Certainly! Come with me." He hurried me through back hallways, expedited me through the security checkpoint, and escorted me onto the tarmac, all the way to the plane. He went above and beyond what I needed, as a way to show me mercy. All I had to do was ask!
(Disclaimer: This is my personal website. The opinions I express here do not necessarily represent those of my employer, Global Scholars. The information I provide is on an as-is basis. I make no representations as to accuracy, completeness, suitability, or validity of any information on this website and will not be liable for any errors, omissions, or delays in this information or any losses, injuries or damages arising from its use.)